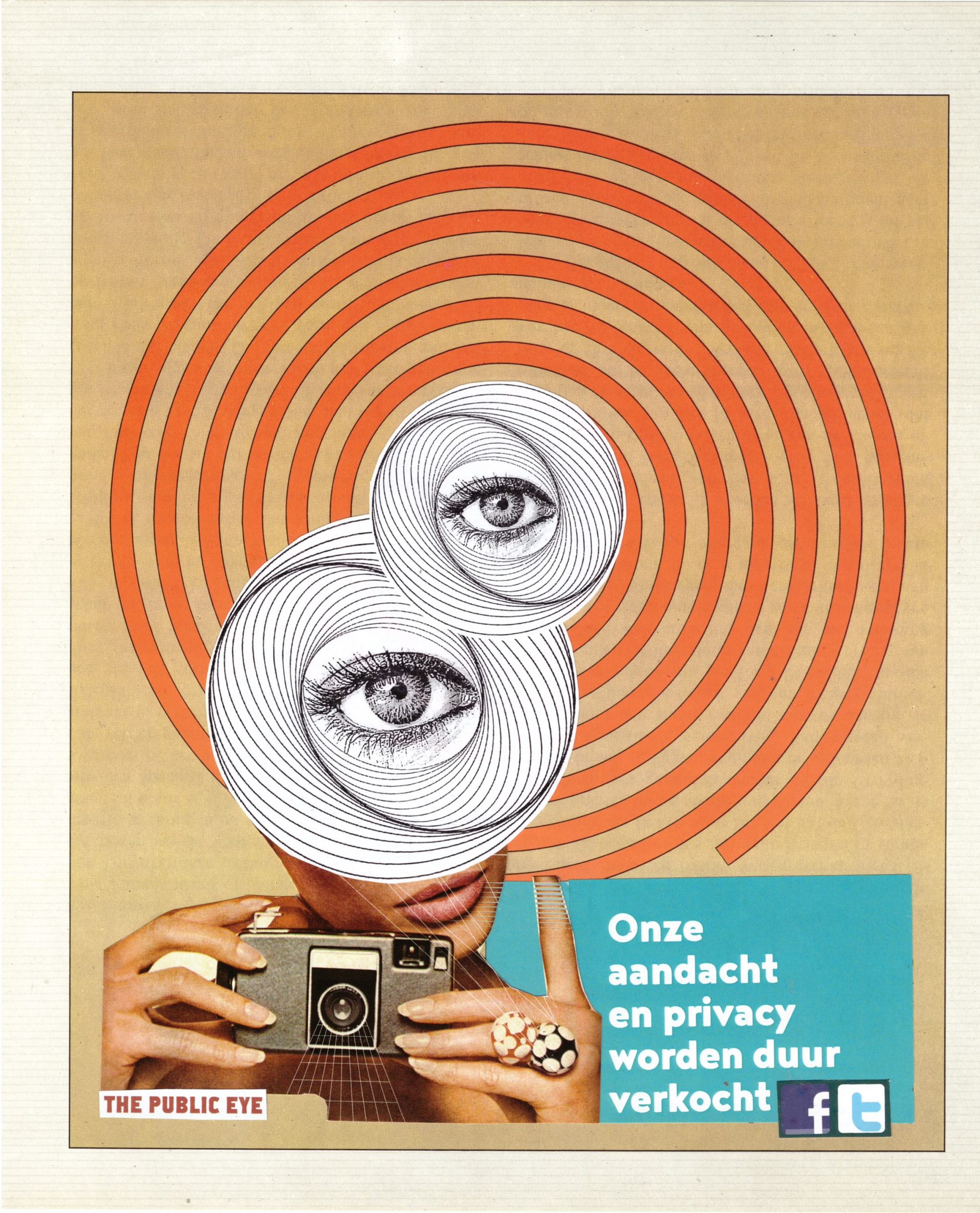 NL : Big Brother is watching you ? Via sociale media en het posten van foto's en berichten geven we een deel van onze privacy weg aan grote commerciële bedrijven die onze data gebruiken of doorverkopen voor andere doeleinden. We zijn hier als consument meer en meer van bewust – door plotse pop-ups van reclame voor producten waar we even naar gezocht hebben en algoritmes die ons enkel nog in contact brengen met gelijkgestemden – maar onderschatten collectief de draagwijdte van het "sharen" en "posten" op twitter, Instagram, Facebook enz. op de lange termijn. Foto's en tekst die je jaren geleden openbaar hebt gemaakt en waar je nu niet meer geassocieerd wil worden blijven je eeuwig via de Cloud achtervolgen. Zijn we wel bereid om onze privacy op te geven ?
FR: Big Brother vous surveille ? En utilisant les médias sociaux et en publiant des photos et des messages, nous cédons une partie de notre vie privée à de grandes entreprises commerciales qui utilisent ou revendent nos données à d'autres fins. En tant que consommateurs, nous en sommes de plus en plus conscients – grâce à des fenêtres publicitaires soudaines pour des produits que nous avons brièvement recherchés et à des algorithmes qui ne nous mettent en relation qu'avec des personnes partageant les mêmes idées – mais nous sous-estimons collectivement la portée à long terme du "partage" et de la "publication" sur Twitter, Instagram, Facebook, etc. Les photos et les textes que vous avez rendus publics il y a des années et auxquels vous ne voulez pas être associés aujourd'hui continuent de vous hanter via le cloud pour toujours. Sommes-nous prêts à renoncer à notre vie privée ?
ENG: Big Brother is watching you ? Through social media and posting photos and messages, we give away some of our privacy to large commercial companies that use or resell our data for other purposes. As consumers, we are increasingly aware of this – through sudden pop-ups of advertisements for products we have briefly searched for and algorithms that only connect us with like-minded people – but collectively underestimate the long-term scope of "sharing" and "posting" on Twitter, Instagram, Facebook, etc. Photos and text that you made public years ago and don't want to be associated with now continue to haunt you via the Cloud forever. Are we even willing to give up our privacy ?