Collages The Green Fairy
ENG : Exhibition Politic'Art 12/5 -21/5/2023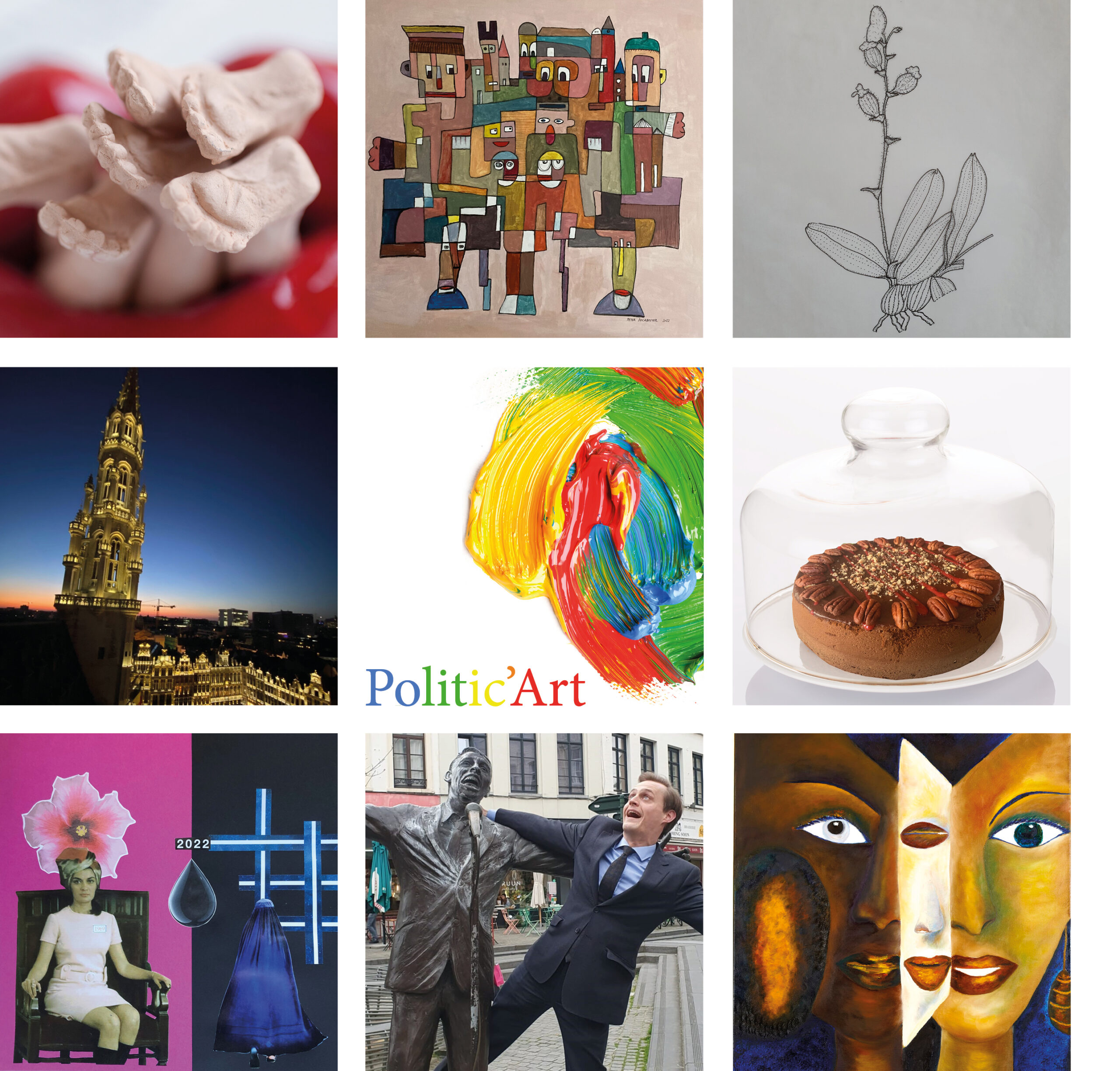 Mont de Piété – Berg van Barmhartigheid, rue St Gisleinsstraat 19- 23, 1000 Brussels
Friday 12 May 2023 from 18:30 to 21:30 (vernissage: register at expopoliticart@gmail.com )
Saturday 13 May 2023 from 11:00 to 18:00
Sunday 14 May 2023 from 11:00 to 18:00
Tuesday 16 May 2023 from 10:00 to 16:00
Friday 19 May 2023 from 16:00 to 19:00
Saturday 20 May 2023 from 11:00 to 18:00
Sunday 21 May 2023 from 11:00 to 18:00 (finissage from 16:00 : register via expopoliticart@gmail.com)
8 (ex-)politicians will showcase their artwork together at the Mont-de-Piété/Berg van Barmhartigheid. 8 different parties, 8 different artistic disciplines, 8 different visions, and yet one and the same label: "Politic'Art". Art is the unifying factor. Art knows neither majority nor opposition. Art is the expression of a universal language. It is therefore not surprising to find elements of one's own sensibility or political vision in the works. It is the artist's way of seeing the world and translating that vision into images, colours and forms. Music, and even culinary gems, can move people. Art makes you think differently, while also leaving room for interpretation and the freedom to think for oneself. Art can trigger change, provoke discussion and bring people together… and that's exactly what happens here, across party and language boundaries!
"The Green Fairy" is the stage name of former Groen MP and senator Annemie Maes, who has been active in recent years as a collage artist with her colourful and cheerful collages. This Brussels-based artist draws inspiration from 1960s images, retro and vintage but often with an underlying contemporary social message. For this political group exhibition, she has chosen works with a feminist, ecological and socially critical angle. Let The Green Fairy blow your mind!
All collages are handmade, using scissors, glue, paper, photos from old magazines and brochures.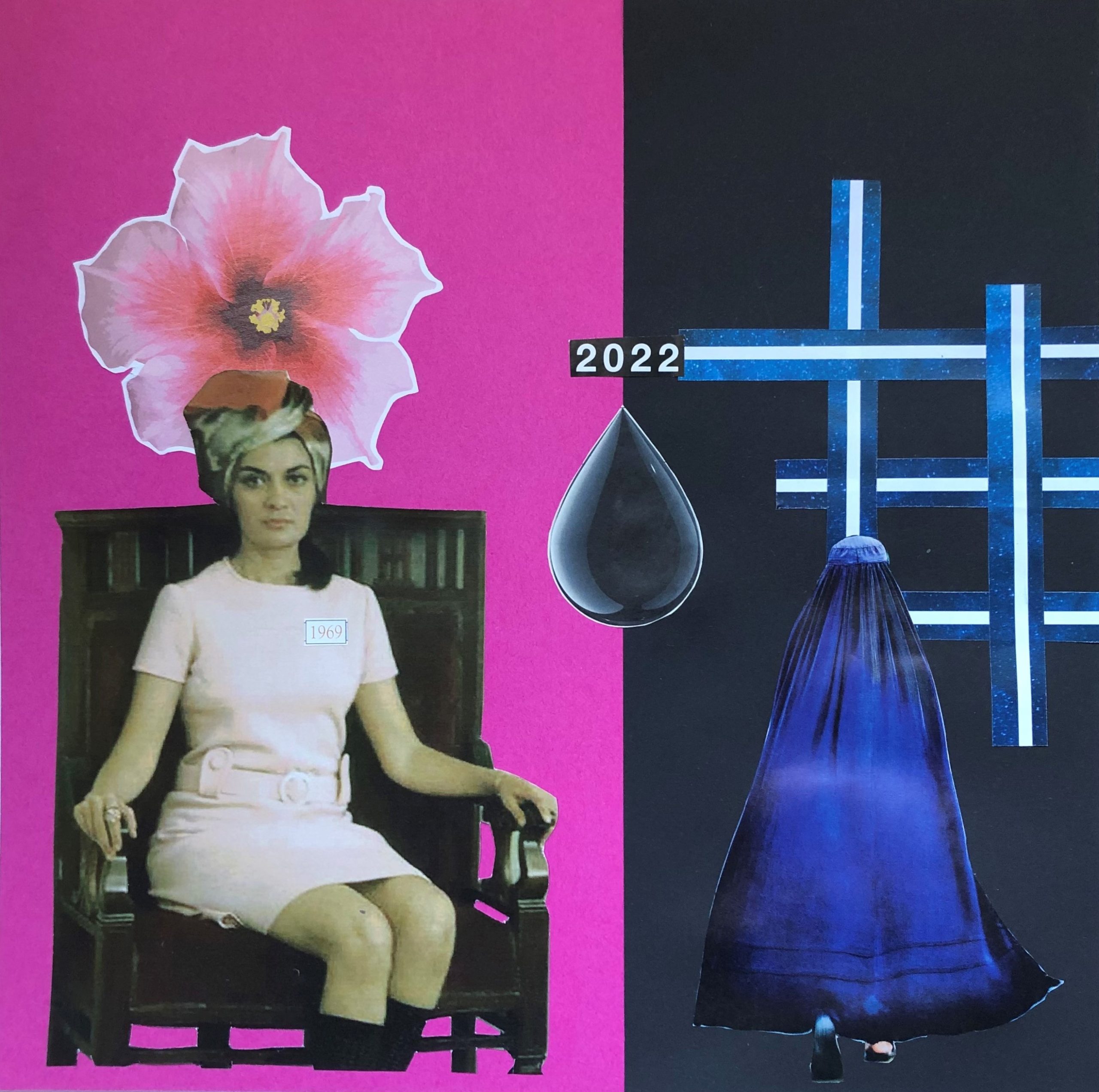 Afghanistan 1969 – 2022. The total breakdown of women's rights. Since the Taliban came to power in 2021, girls are no longer allowed to attend high schools and universities. Women's rights are also violated in terms of jobs and freedom of movement. They no longer have any protection against domestic violence. They are often arrested, detained and mistreated for no reason, for minor offences for discriminatory rules. The number of forced and child marriages has dramatically increased.
"First we were not allowed to wear colourful clothing. Then they told us to stop wearing colourful scarves. Then we were asked to wear all black. Now it's the burka or the full face covering. What else is waiting for us? " (says Brishna, a 21-year-old university student from Khabul, quoted from the Amnesty International report 2022 "Death in Slow Motion: women and girls under Taliban Rule")
On the left is an image of a fashionably dressed Afghan woman from a 1969 Afghan advertising leaflet. I have recovered other colourful pictures of short-skirted, unveiled independent women from Khabul from the 1950s and 1960s.
Fanatics worldwide – often men, often in the name of their religion – are increasingly taking away women's rights (rights that had been gradually built up since 1950), not only in Afghanistan, but also in Iran, in Egypt, even in USA. This negative spiral of erosion of women's rights can only stop if more men were feminists and were also raised that way, if there were fewer religious fanatics around and, in the case of Afghanistan, if more Afghan men would take their responsibility to revolt against those Taliban lunatics.
Some collages, as well as reproductions of the collages (e.g. postcards,…) are for sale.