Coming up soon: expo #rueDANSart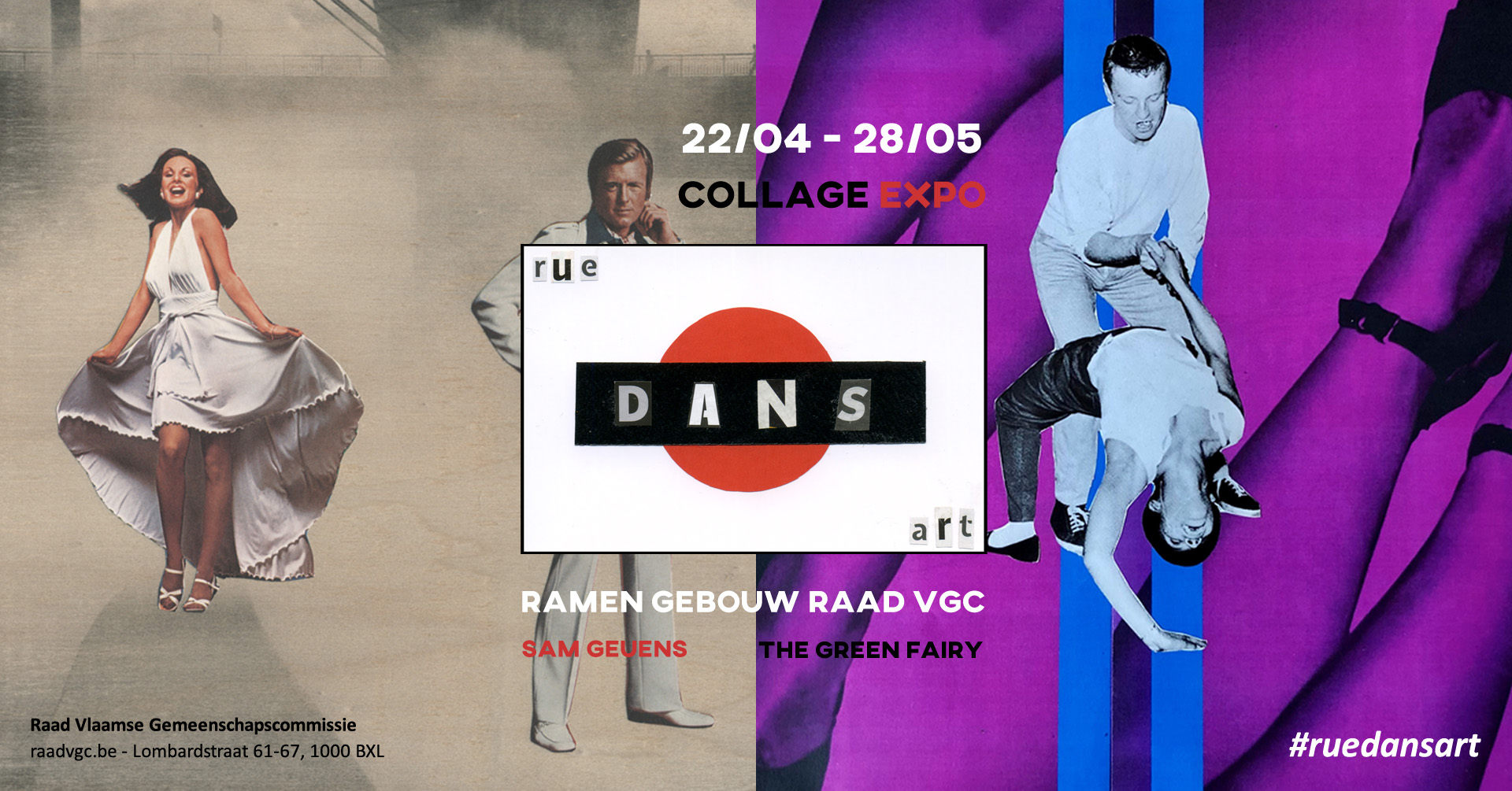 The title of the collage exhibition 'rue DANS art' consists of the elements 'rue' , 'dance' and 'art' and aims to show art in the streets, expressing the lack of opportunities to dance since the beginning of the corona measures. The title also refers to the Rue Antoine Dansaert, the beating heart of the Flemish and Brussels café district in the centre of the normally bustling capital of our country and of Europe.
By putting each of the 3 words in a different language, the concept of collage is even made linguistic and we find a recognizable word for both French speakers (rue), Dutch speakers (dans) and English speakers (art). They are also the three most spoken languages in Brussels' cultural and entertainment life and are often used interchangeably in conversation due to the wide mix of nationalities and languages in today's multicultural society. The emergence of the term 'dansaertvlaming' also shows how this street has become a lifeline for social life.
The 'logo' design of the expo is itself an analogue, paper collage and refers to both the classic street signs and the old Martini billboards. Indeed, the expo will be on display in the windows of the Council of Flemish Community Commission building (Rue Lombard 61-67) and thus has a physical link to the currently empty streets at night. Cocktails, in turn, symbolize going out, dancing and partying.
The collaboration between Annemie Maes (The Green Fairy) and Sam Geuens arose naturally from a shared interest in collages, music and vintage images. Both artists have been living in Brussels for a long time and have been making collages for years that express their own interests. They are inspired by retro and vintage, often bring a current, activist message and both share a deep lack of freedom to move to music, to dance amidst a partying crowd.
Each extension of lockdowns, curfews, closures of cafes, concert halls and cultural centres, cancellations of festivals and events not only further physically isolates people from each other, but also suppresses some of the emotions that often only come out when there is dancing or partying.
With these colourful and cheerful collages they hope to brighten up the streetscape and in a way join the actions of 'Still standing for culture' to give a shot in the arm to the cultural, artistic and event sector. In solidarity with the affected professional sectors, but also for all people who love (live) music and like to dance.
Of course, given the contagiousness of the coronavirus, they understand the need for most measures. But by releasing these frustrations into their creativity, they hope to inspire people to persevere, to keep art and expression alive and to make passers-by look forward to the day when they will be allowed to dance in public again.